What is Mercedes-Benz DISTRONIC PLUS®?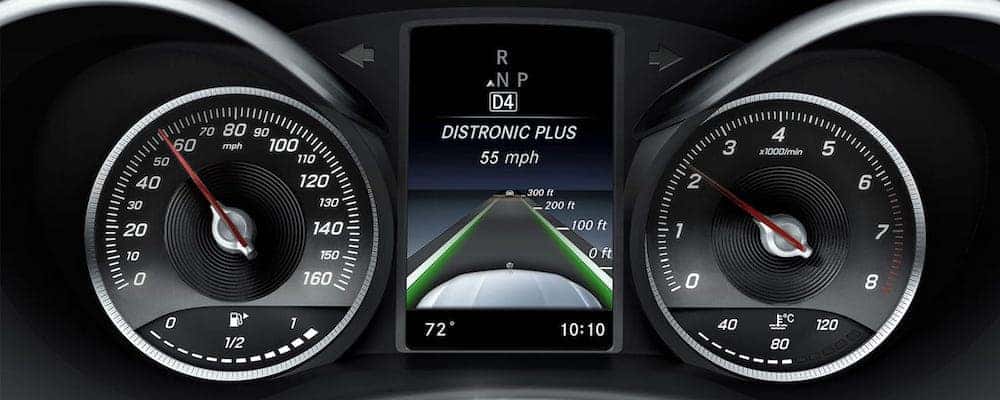 DISTRONIC PLUS® is an advanced adaptive cruise control system that maintains a preset speed, as well as a safe distance interval between you and straight-ahead vehicles. This allows you to stay with the flow of traffic more adeptly than you would with a standard cruise control system. Using a radar system, DISTRONIC PLUS® monitors the gap between your Mercedes-Benz vehicle and traffic that's ahead of you. Learn more about how DISTRONIC PLUS® works below!
How to Use DISTRONIC PLUS®
Does your vehicle already have DISTRONIC PLUS®? If so, follow this step-by-step guide to use it correctly:
The controls are situated on a lever that's attached to your steering column — similar to a single-speed cruise control system.
Gently move the lever up or down to change your cruise speed by one mile per hour. Up increases speed and down decreases speed. Pressing the lever forcefully adjusts the speed by five miles per hour.
Press the brakes or push the lever away from you to cancel your settings.
Pull the lever toward you to choose the last set speed.
Use the knob on the end of the lever to set your preferred following distance. View the central screen to double-check the distance you've selected.
The system can bring your vehicle to a total stop if traffic stops. Lightly press the gas pedal or pull the lever toward you to resume if you don't automatically begin moving again within three seconds.
It's important to note that Mercedes-Benz DISTRONIC PLUS® should only be used on highways. It's up to you — the driver — to remain aware of your surroundings at all times. Check your owner's manual for additional information or contact the team at Mercedes-Benz of Greenwich to learn more.
What is DISTRONIC PLUS® with Steering Assist?
DISTRONIC PLUS® with Steering Assist works to keep your Mercedes-Benz vehicle in its lane. Using a camera located behind the windshield, this system scans lane markers and surrounding vehicles and course-corrects as necessary to prevent lane drift. It also monitors traffic on the left side to help you anticipate overtaking vehicles from the right side. This system is so sensitive, it can detect whether or not your hands are on the wheel. Whether you're weaving through the streets of Stamford or road-tripping, this feature brings added peace of mind to any journey.
Mercedes-Benz Models with DISTRONIC®
Variations of the DISTRONIC® cruise control systems are offered as standard or optional equipment on the following Mercedes-Benz cars and SUVs:
Mercedes-Benz S-Class
Mercedes-Benz CLA
Mercedes-Benz CLS
Mercedes-Benz GLA
Mercedes-Benz GLS
Mercedes-Benz G-Class
Mercedes-Benz SLC
Mercedes-Benz SL
Learn More About the DISTRONIC PLUS® Feature from Mercedes-Benz of Greenwich
Depending on the class, you'll find DISTRONIC®, DISTRONIC PLUS®, or DISTRONIC PLUS® with Steering Assist. Contact us to schedule a test drive near New Canaan, and experience the power of DISTRONIC PLUS® and other Mercedes-Benz technologies like ATTENTION ASSIST® and BlueTEC®.