Many drivers are frightened when they notice a shake or vibration in their vehicle, but it's important to avoid jumping to conclusions. Why is your steering wheel shaking, really? There are several potential issues at play; however, the most common cause is unbalanced tires. When your car's tires are unbalanced, the steering wheel will often vibrate—the entire vehicle might feel like it's shaking. Read on to learn more about the causes of a shaking steering wheel and how we can help!
What Are the Causes of a Shaking Steering Wheel?
If your steering wheel shakes, it can most likely be chalked up to one of the five following problems:
Unbalanced Tires: When your car's tires are unbalanced, weight distribution is also unbalanced. This causes the vehicle to vibrate, especially at highway speeds. In this case, steering wheel shaking is even more noticeable if the car has a lightweight suspension system. Failing to address this issue can result in damage to your car's suspension components.
Misaligned Wheels: Your car's wheels also need to be properly positioned. If you're usually careful when crossing railroad tracks and take care to avoid potholes, you can more easily avoid throwing your wheels out of alignment. One tell-tale sign that your wheels are misaligned is uneven tread wear.
Bad Wheel Bearings: When the wheel bearings become damaged or aren't properly lubricated, the resulting friction can cause steering wheel shaking. If this is indeed the problem, the wheel won't shake all the time — just during turns. Sometimes, simply cleaning the bearings can stop the shaking, but if there's damage, you'll need to bring your vehicle in for service.
Suspension Problems: Damaged or loose suspension components or an imbalanced driveshaft can be the causes of steering wheel shaking. Whatever the case, you shouldn't postpone these repairs. They're fairly simple fixes, and our team can have you back on Rye roads in no time.
Brake Problems: Does your steering wheel shake when you slow your speed? If so, the problem may be the brake system. Warped brake rotors or damaged brake calipers, pads, discs, or shocks can be the cause. If you suspect your brakes are damaged, don't wait — schedule a service visit at Mercedes-Benz of Greenwich today!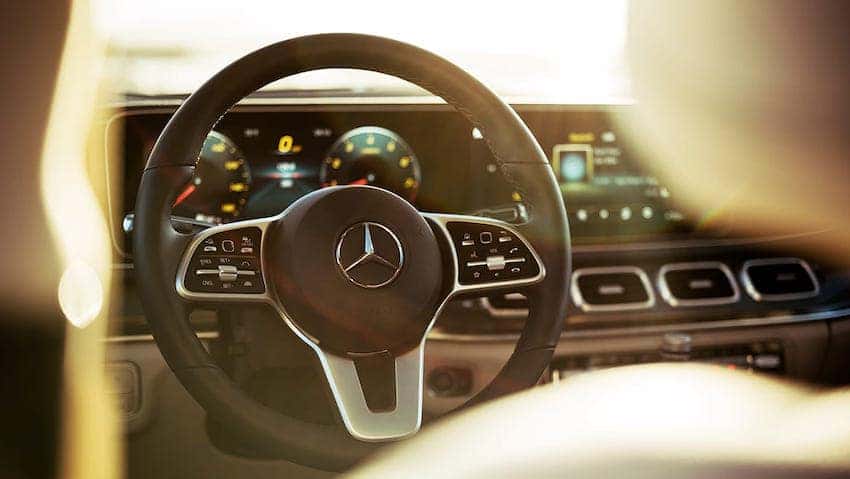 Why Does Your Steering Wheel Shake at 70 MPH?
If your vehicle doesn't shake at all times, but only when you really get up to speed, you might feel as though pushing the engine too hard will cause your vehicle to fall apart. In fact, this problem is relatively easy to diagnose. So, why does your steering wheel shake at 70 mph? The effects of unbalanced tires are harder to notice at lower speeds, but they become more and more noticeable when you're moving quickly—and 55 to 75 mph is the 'sweet spot' where the issue can be most apparent. If your car doesn't shake at lower speeds, unbalanced tires are almost certainly the cause of your woes.
What does it actually mean to say that a car tires are unbalanced? This really has to do with the way that your vehicle's weight is distributed: tires will be described as unbalanced if more of your vehicle's weight is concentrated on the left or the right side. Over time, the shake caused by unbalanced tires can cause damage to your vehicle's suspension (or to other internal systems), so it's smart to ask about your tire balance when you schedule tire rotation with our team.
Is It Safe to Drive with a Shaking Steering Wheel?
A car that shakes or vibrates probably isn't going to fall apart while you're moving, but is it really safe to drive with a shaking steering wheel? Since steering wheel vibration can result from brake problems, it's a good idea to err on the side of caution and have the issue addressed as soon as possible.
Other issues, including unbalanced or misaligned tires and damaged steering/suspension systems, are not immediately dangerous in most cases. However, these issues will absolutely accelerate the rate of wear and tear that your vehicle experiences on the road. Failing to address a shaking steering wheel will gradually erode your safety and security—and potentially lead to costly repairs down the line.
Rely On Mercedes-Benz of Greenwich for Expert Mercedes-Benz Service
Whether you need service for a new or Certified Pre-Owned Mercedes-Benz, our service center near Stamford and New Canaan has you covered. Our certified technicians use nothing but genuine Mercedes-Benz parts during repairs and maintenance for the best possible quality. When you say to us, "my steering wheel shakes," we'll know just where to look for the root cause of the problem. Contact us with any questions about our service menu or service specials!